Another Old School Favorite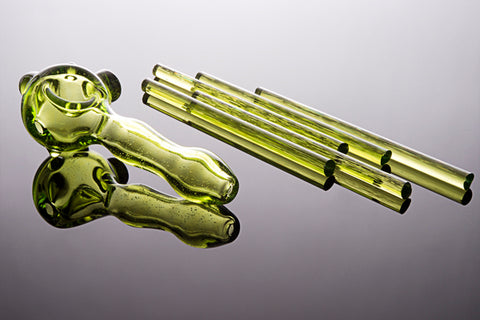 Hi Everyone -
 
Our new First-Gen Transparent line has received a great response and we are stoked to be able to bring you these colors at old school prices. I'm super excited to let you know we are adding another old favorite to the First-Gen line-up!!
 
Earlier this month, we re-released Kryptonite. Today, I get to let you know that we are re-releasing the yellowish Kryptonite from way back in 2002.  That's right, we are bringing back the super OG formula!!!  Now you can get your hands on the kelly green Kryptonite and the yellow-green Kryptonite 2002 formula.
I'm having a great time working on this new line of colors; digging into the old GA recipe book and going back to some of our original furnace designs. For those of you who don't know, we build our own kilns from scratch, wind our elements and cut our own bricks in-house at Glass Alchemy.  To make these First-Gen Trasparents we are going back to an older furnace design that doesn't run as hot as the furnaces we use for the Next-Gen Transparents.

How many of you remember this older version of the color?  I think the formulas for both Kryptonite and the Kryptonite 2002 we made way back in the day add something special to the palette.  Rather than choosing just one, we are bringing them both back!
 
We'll have more exciting news to share throughout the year.  For now, I hope you find the First-Gen Transparents to be a great value, allowing you to add some great color to your palette at a great price.

Peace – Thomas