Our Commitment to Color Innovation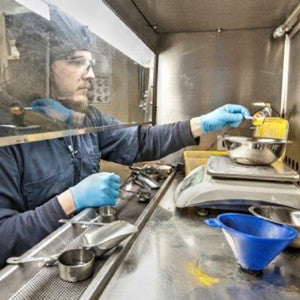 You have been keeping us busy and it has been a while since I was last able to post a blog. I always wonder what our glass will be made into, whenever we send out an order, whether a pound to a new artist or a pallet to a reseller. We are humbled by the fact that artists, from those who are getting started to those who have helped define the industry, continually seek out Glass Alchemy. To someone not familiar with our industry, it might be hard to see what makes artists choose Glass Alchemy over other glass makers.
When I took over color development at Glass Alchemy in 2009, it was important for me to find my own voice as a color maker. Not only did I want to make my dad's formulas even better, I wanted to forge my own path and explore colorants in a whole new way. I started by reworking our existing colors and really got to spread my wings when I introduced our new line of transparent colors, starting with Purple Rain in 2012.  At a time when Slyme by TAG was king, artists literally begged me to make a GA equivalent. Instead of participating in the "color war" I wanted to bring something new to the table – color that looks good and can hold up in a 40 hour piece. Rather than jumping on the hype train, and knocking off a top color, we decided to forge a new direction for Glass Alchemy and for the industry. 
Doing what we do sometimes means making tough choices. Because we treat glass as an art form rather than as a commodity, quality takes priority over quantity. Which means we may never make enough glass to keep every artist happy all the time. Our innovation often "inspires" other producers with their color-making. While frustrating, it doesn't stop us from continuing to face forward and lead the industry through hand-making glass like only GA can. We believe we are different in the most important ways.
I have made the choice to invest a big chunk of my life to expand the color palette available to our customers. The time and commitment invested by myself and the GA crew is evident in the glass we produce. The innovative colors we make here at Glass Alchemy are a direct result of this commitment and our desire to provide our customers with the best color we can. I am blessed to work with a team who shows up to work every day wanting to make the best glass possible. Their passion fuels me to continue to push the industry's boundaries and I am excited for the future and color possibilities that exist.
We will likely never make the most glass in the industry. Much more important to us is leading the way in developing glass that's never been seen before and making the highest quality glass in the industry. Some examples of these colors are: Purple Rain, Rozay, Brozay, Rain Drop, Blue Dream, Blue Dreamingo, Tonic, Serum, Haterade, Crippy, Terps, Lemon Drop, Tangie, Hot Sauce, Potion, Blurple, Neo-Cads and many more to come!!!
We don't have any control over who emulates us, so we focus on where we are and where we are going. That's something that keeps us excited, motivated and ready to ship your next order.
Thanks for your support of Glass Alchemy!
Thomas