Detroit Hustles Harder!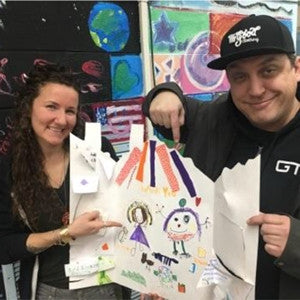 This past summer, Thomas and I went to Detroit for the Michigan Glass Project.  When we got to the Russel Industrial Center, we were blown away. The Michigan Glass Project is huge!!!  While Glass Alchemy has been a sponsor every year, we hadn't attended since the first event in 2012 and WOW - has it grown!!
Glass blowers from across Michigan and the country came together to help support the Project's goal of getting art education back into Detroit classrooms through their support of the non-profit organization Art Road.
This year's event brought together record numbers of glassblowers and has set a fundraising record for the Michigan Glass Project.  With the support of our glass community, over $80,000 was donated, fully funding art education for K-8 students at a local elementary school.
In addition to raising and donating funds for Art Road, project organizers Allison Keys and Drew Krups also go into the classroom and conduct glass history classes and demos.  Their commitment to helping bring art back into the lives of children is inspirational.
We are so happy and proud to be a part of this event.  We can't wait to see how the Michigan Glass Project continues to grown and evolve!!!