Looking to take Glass Blowing Classes??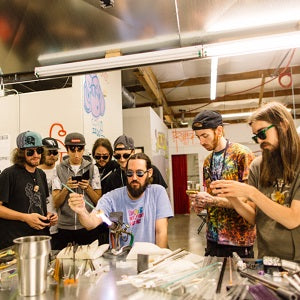 Hi Everyone -
We get a lot of phone calls here at Glass Alchemy asking about glass blowing classes.  I thought I would take a minute to provide some information for those interested in learning more.
If you are new to glass blowing and more specifically lampworking, there are a few things you need to consider before deciding what type of glass blowing classes you want to take. You need to think about your skill level – beginner, intermediate or advanced.  There are also different options out there depending on what you are looking to learn – do you want to make wearables, or functional pieces?
Choosing Glass Blowing Classes that are right for you
Around the US, there are a lot of community-based glass schools that are great resources to get started.  If you are looking for glass blowing classes and want to lampwork glass, you will need to make sure your local glass school offers lampworking classes.  If you are reading this blog, then I am going to assume you specifically want to learn how to lampwork with borosilicate glass, so you need to make sure your lampworking classes is focused on boro, not soft glass.
If you want to learn more about lampworking in general, you can check out one of my previous posts here.
What to look for in a Glass Blowing Class
I think taking an intro glass blowing class at a school or community craft center is a great place to get started.  These classes will provide you with a basic overview of skills, introduce you to health and safety best practices and you generally get to walk away with a completed project, like a pendant.
If you have already developed some basic skills and you want to learn more, then it is a good idea to determine which skill set you want to learn next – do you want to make wearables or functional pieces.  Now's a good time to take some one-on-one glass blowing classes with a reputable teacher or you can watch tutorials on YouTube.  You will learn a lot from both approaches, but I think hands on classes are always the best.  This way someone can help you fine tune your technique and help eliminate bad habits before they start. 
You can also check out the Glass Alchemy YouTube Channel for some color specific tips and tricks.
Taking things to the Next Level
If you started taking glass blowing classes so you could become a pipe maker, it is a good idea to make sure your basic techniques are solid, before you move on the more complicated work.
Once you feel comfortable with glass blowing basics, and you are racking up torch time, now is the time when you may want to take a class from one of your favorite artists.  Here at Glass Alchemy, we host glass blowing classes at Studio Alchemy, which is our 2,500 square foot facility dedicated to demo style classes.
The glass blowing classes at Studio Alchemy offer students the opportunity to watch some of the best artists out there work and collab in an intimate setting.
We have hosted some stellar glass blowing classes over the years.  We have had some students take every class we have offered.  It has been great watching these artists develop their skill based and define their voice.