The Glass Alchemy Artist Grant Program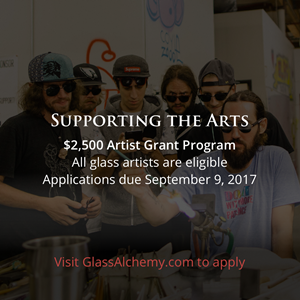 The entire GA crew is inspired every day by artists who take our glass and turn it into spectacular works of art. But we got to thinking, what if there is an artist out there with an idea that is truly epic, but that artist needs the right opportunity and resources to get started? We talked it through, and the result is something we are really excited about!
INTRODUCING… The Glass Alchemy Artist Grant Program! This is a new way for GA to support artists who want to really push the limits of borosilicate. We are going to award one artist with up to $2,500 in color, to help their vision come to life!
Are you eligible? Well, are you an artist? Then, yes! No idea is too big or small; if you are dreaming of a massive, public art installation or a technical project to push the boundaries of boro, this is your chance to tell us about it. Apply here by September 9, 2017. All applications will be reviewed anonymously by Glass Alchemy and the final selection will be made by the Makers Alliance Board of Directors in early October.
Let's go big, together. Your dream project might be the one that gets thousands of dollars in color. Get your application in today!