Mike Shelbo: Pardon Me, I blogged...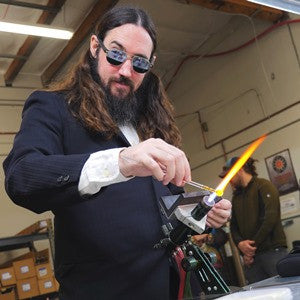 I have been appointed to Co-chair the Glass Alchemy Makers Alliance Board of Directors, along with Thomas Grimmett, since I have the longest working relationship with Glass Alchemy as an independent artist. Over the years, I have always felt my role as a maker aligned with GA, was to ensure that if you saw my name attached to descriptions and art made with their color, then you would understand that it had my stamp of approval.
I am excited to continue this tradition, leading a larger group of artists who are breaking boundaries and helping to create a thriving industry for all of us. If you want to learn more about the other Board members, you can read about them here. Now, I want to tell you about my history with Glass Alchemy.
My initial duties working with Glass Alchemy were to test color and give feedback during the Glasstique program in 2007. At that point, having done soft glass furnace work since 1998, I felt I had a leg up on understanding the basics of working colored glass, specifically without encasement in clear. Knowing of a common misconception that certain borosilicate colors could not be worked without encasement in clear, I set out to prove this idea wrong in 2002.  Coincidentally, I had just gotten my hands on Glass Alchemy color for the first time.  I was only proving this to myself, but it lead me to make goblins out of coiled color bubbles, which I could then use as carburetors on bubblers and as wearable hollow pendants.
When I started testing color for Glass Alchemy, I had clear communication, quick feedback and was eager to make my mark on the lampworking world. One year later they asked if I would be interested in making a color palette poster of all the Glass Alchemy colors using my goblins and photographs as an example to illustrate the range of possibilities with each color. That was 2008 and by 2009 the first Goblin Approved Glass Alchemy color chart posters were printed.  This project forged my alliance with Glass Alchemy, a company that respected my career and views as an independent maker.
While I have continued to work with GA, I have never been employed by them. By remaining an independent artist, I have been able to speak on behalf of all makers when giving feedback to Glass Alchemy on color, company policy and public interaction.
I have always tried, melted and used every color available on the market and encouraged everyone to try and do the same, and if you do, then you understand why I stand behind the quality and reliability of Glass Alchemy products. Sure, there are a few other colors on my shelf from other color companies, I've never denied that fact, but I am quick to add that every color from Glass Alchemy is in use in my studio. I trust the coefficient of expansion to be 33. I trust that they use high quality clear borosilicate in their recipes that is the same trusted company I use in rod and tube form.
Now, 10 years into our relationship, Glass Alchemy has evolved once again with the launch of their artist direct Glass Alchemy Rewards Program, which is based on transparency and the highest quality product available.
The idea is based on helping artists get the color they want directly from Glass Alchemy and making the best work they can make. In classes I have taught, I like to teach my students to strive for museum quality work in their creations. The idea that your precious object could be so well made with the highest quality color that you know it will last thousands of years has always driven me to push the boundaries of my imagination and technical skill.
Through high quality craftsmanship and materials you enable yourself to create the best art and product you could offer to your patrons. Everything comes full circle with the Rewards Program, as you receive more incentives and discounts when your GAMA membership is redeemed. No hassle, no confusion, just direct access and discounts on Glass Alchemy colors. That's the foundation for the Glass Alchemy Makers Alliance and why I am excited to be involved. You are GAMA, we are GAMA.
The Board of Directors of the Makers Alliance have a lot of exciting projects coming up and are challenging you to use Glass Alchemy colors to make your next best piece, we want to showcase you, we want to see you shine, let's all strive for high quality together while we move forward into this exciting new time of lampworking.
Mike Shelbo