New Glass Alchemy x Mike Shelbo Goblin Poster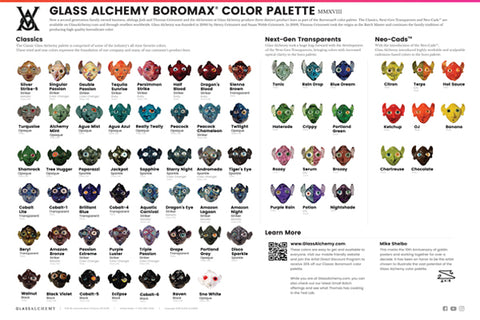 I have been working closely with Jodi and Thomas for over a decade and we just finished a new version of the Glass Alchemy Color Palette Poster. In the last year I have completed and photographed 26 goblins made from new and old colors to update the chart with the latest and greatest from GA.
The new colors include the Next-Gen Transparents and Neo-Cads, including all the CFL activated colors. A few Classics have had reformulations over the last ten years and needed a fresh goblin to illustrate what they look like today.
As always, you can find my working tips and tricks included on the website for each color.
Glass Alchemy has the entire collection of goblins that have been printed on the posters since 2009. Some of the goblins on the new poster are solid, but the majority remain hollow.
I am really pleased with this new edition of the color palette poster and can't wait for you to get your copy soon! They will be included in every order until we run out, which will be right about the time we add a few more colors to the permanent collection.
- Mike Shelbo