PDX Tubing Company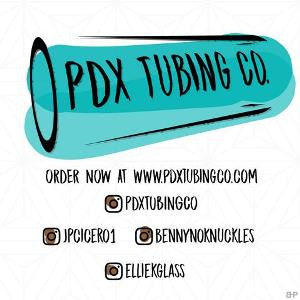 Hey everyone -
I have some exciting news for the boro scene.  Its bittersweet for me, but super sweet for all of you.
Over the past few years, Glass Alchemy has been producing Boromax Layered Tube as part of our product line.  As most of you know, JP Cicero and Ben Leonard were part of our tube pulling squad.  
As the industry is growing, GA is putting more focus on our color development and rod production and we haven't had a lot of time to pull tubes.  So, I am happy to let you all know that JP and Ben have teamed up with Ellie K. to start their own tube pulling company - PDX Tubing Co.
They are using hella GA color and I can't wait to see all the new combos they come up with. They will also be making some of the classic GA combos, like one of my personal favorites, Super Fly. 
PDX Tubing Co. is up and running and their tubing is clean.  They are pulling on a regular basis, so check their website often for new combos.  After seeing them, I have a feeling these colors are going to go quick. Act Fast!
Peace,
Thomas