Q&A With Allison Key of the Michigan Glass Project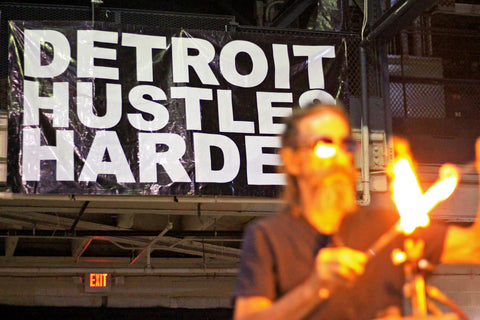 We had the opportunity to head out to Detroit and attend the Michigan Glass Project a few weeks ago.  We have sponsored this event since it started and love getting the opportunity to attend.
While we were in Detroit we asked co-founder Allison Key to provide an inside look into the event.  Check out what Allison has to say!
GA: Why did you decide to start The Michigan Glass Project?
Allison: Thinking back to 2012, when the idea came up to start a project, I believe we simply thought the concept sounded fun. We have always been great at throwing parties and uniting our artist friends. I think based on our background of being so in love with our city, it seemed like a great idea to throw a party that centered around glass and it also allowed us to do something more for Detroit.
We had a shop of I think 7 people back then, none of whom were connected to the glass industry in any big way. We had never attended a trade show and I think Drew was the only one who had ever really traveled to other shops and had been to the Colorado Project once. Blade was really the catalyst for connecting the fact that we were starting a Project to those in the industry who could help us.
At that time, I didn't understand how sponsorship worked or knew anything about the top players or glassworkers in our industry; I was so out of touch. I made production glass in my shop and I sold it locally; we all did. Blade was able to give us a very simple framework based on his experience with the Colorado Project and starting a nonprofit of this type; mission statement, team roles, a name, bylaws etc.
The hardest part was picking a charity. Not because we couldn't find a worthy one, but because there were so many options. At that time, and in some ways still today, we still live in a run down, playground, do-what-you-want Detroit. We thrived on that connection to our city. Ultimately we decided on The Belle Isle Aquarium, a 100+ year-old aquarium that had been shut down and disregarded due to funding cuts in our bankrupt city. When we met the folks there, who were all amazing volunteers, it really ignited the desire to start a Project. Choosing the aquarium allowed us to reach so many demographics at once and it really kick-started us because we then had local backers who loved the idea.
We started to see that on the city level the funds may not be there, but on the ground level you had a ton of people willing to work for changes they wanted to see in the city. We also have a very strong-knit group of artist friends, of all mediums, who joined with us to tag team our first event. I honestly don't know if the size of the event could have gotten so massive any place but here because we were already all so used to working tirelessly for peanuts, that no one cared about setting aside other work to devote time to the Project. It was a 'this is what we're doing; who's on board?' mentality. Thinking on why it was started is multi-faceted because it has morphed so much over the years. As time went on, and more and more people got involved, we really got to see what it means to create community for the community. 
When we started it was about throwing a fun party with a charitable twist; now we do it because it unites hundreds of people to a level playing field, and that unification allows us to give back to kids in a way that will most definitely shape the world we live in - even after we are gone. 
GA: How would you describe The Michigan Glass Project to someone not familiar with our industry?
Allison: The Michigan Glass Project is a charitable live art music festival that raises funds for Art Road Nonprofit.  Art Road's Nonprofit is an organization that returns art curriculum to elementary and middle school students at public schools, where art programs were lost due to budget cuts. Glass artists from across the nation create one-of-a-kind works live and on- site, that are then sold in silent, live, and online auctions. The event includes live street art and painting, 70 vendor booths of all artistic mediums, 2 stages with live music and DJs, food, drink, and really outlandish extracurricular art activities. All profits, beyond costs associated with holding and promoting the event, are donated to Art Road and in turn art programs for public schools in Detroit.
GA: Why do you think it's important for our industry to give back to the community? 
Allison: Our industry is comprised of so many good-hearted, loving people. We are all very connected and care deeply about one another. When we unite for a worthy cause, we get the opportunity to come together as one team, and it lets us step outside of our personal profit and competitive boundaries.
Taking part in an event like MGP or AAGI really puts the deepest of  meanings into collaborations. Not only are artists who may not otherwise get the chance to work together collaborating on pieces, but those pieces are changing hands, getting seen, getting appreciated, getting sold, and in turn becoming art class for a child or a meal for a hungry person. It allows one piece to expand its reach far beyond its initial intent. Also, we all know how much the pipe scene can be frowned upon by those not in it, but I think by giving back we show just what we are capable of. It's so important to give back, to give in general. It is only through giving that we receive. I don't know that any other industry is united like we all are, or that any industry can drop differences like we can, or that any industry shares knowledge with each other like we do. It is a very special thing.
By taking part in these kinds of events, we set an example to anyone that crosses our path. We spread light on our craft and our livelihoods as pipe makers. We aren't necessarily doing it to prove anything to anyone, but it is inevitable that we do. As we unite and give together, our hearts grow and we become more and more connected to one another, and to affecting positive change in the world because of the gifts we are giving.
GA: What made you decide to benefit Art Road?  
Allison: Since the beginning, we had talked about raising money for something that benefits kids, but we were hesitant with the majority of money coming from pipe sales. After the first three years, with the aquarium back up on its feet and running, we knew we needed somewhat of a fresh start, or purpose. I googled something along the lines of "art programs for kids" and stumbled upon the Art Road website. I instantly felt good about what they were doing, in that they are putting art right back into the regular curriculum that currently lack it. I sent a general email to their site and Carol, the founder, replied. We met for coffee a couple days later. She is absolutely amazing. When you look in this woman's eyes, you can feel love and tenderness and warmth and genuine understanding. She is a true hero for starting the organization, and she's been running it with her husband and their small team for 16 years. Carol and Steven have worked tirelessly and have some good backers, but were kind of on what seemed like a plateau as far as funding and expansion. I believe our meeting was mutually beneficial in that it gave new fire to both of our organizations. They got very involved in our event, which was very new for us and absolutely incredible.
We loved the idea of using the art generated at the event to give art back to kids. I don't think we realized until we announced the event just how much it would hit home with everyone in our industry as well. It extends far past our industry, and touches anyone who has any kind of involvement with art. We went from raising $36K for the Aquarium in three years to raising $40K for Art Road in just one. Then in 2016, that $40K doubled to $80K. The proof was right there in the numbers. It garnered more support than we ever imagined possible. That support and the help of every person who has anything to do with the Project is what really carries us now. I mean it when I say it belongs to no one person. It belongs to thousands of people - truly the biggest team effort I have ever experienced.
GA: What are your future plans for The Michigan Glass Project?
Allison: Charity-wise, we want to stick with Art Road. This year we really got down to the nitty-gritty with the numbers. Approximately 24,000 kids in Detroit proper, in 51 out of 83 public schools, lack art. And that's just Detroit. This problem holds true all across our state and the nation. Ten years ago, before they closed and merged schools, those 83 Detroit schools numbered over 100. So, that equates to more students in less schools, the majority of which have no artistic curriculum. We are really starting to grasp the fact that we can make a real difference here.
Our goal is to donate at least $100K this year, and we believe it's going to happen. That means the addition of one more school to Art Roads roster, and additional funding for all of the others. The bigger those donation checks get, the bigger we want to see them become in the future. Shelbo told me I am in a snowball, and it just keeps getting bigger and bigger. I can definitely feel that. With the support and backing we have now, we are confident it will just keep growing, and I feel blessed that we have so much help to make it all a reality.
The artists that come out and work are truly remarkable. They all really give it everything they've got. I don't know what it is, maybe part Detroit hustle mentality, part this amazing industry of workhorses, and part their connection to the cause but I've never seen so many people in one room working so hard for three days straight. The energy everyone puts out carries everyone else in the room throughout the entire event. 
Event-wise, we have plans to add live neon demos in a big way next year. Our music lineup will expand, now that we know what it means to have and run a full stage. In addition, we are always tweaking the event and building upon critiques and suggestions. I like to let others have ideas about what they want to see at the event and then help put it into action. Our torch count will remain the same, 40 is plenty, although the guys love to mess with me and tell me it will be 100 some day!
GA: How can people get involved?
Allison: The easiest way to get involved and to become the most connected is to simply attend. The Project carries an energy all its own and you have to really be there to experience it. It will move you!  And that's what we want most - to inspire people to get creative and find their own way to be a part of the mission.
If artists are unable to attend, we also accept shipped donations all year long and then sell them, mainly on Instagram. Any additional monetary donations that help us with event costs, means we get to donate that much more to Art Road. We take applications for torch time and choose artists on a juried basis, simply because we have such an overwhelming amount of requests each year. We also take applications for live painters.
The event is massive and we always need volunteers.  And volunteering is a great way to get in the mix, meet people, and see the event from its inner-workings.
On the higher end, a good deal of our funding for the event is provided by our incredibly generous sponsors.  So people or businesses who want to get involved on that level are much appreciated.
We hope to see everyone at the 2018 event!
*photo by @pyroscopic