Q&A with Craig Lewis Founder of the Armadillo Art Glass Initiative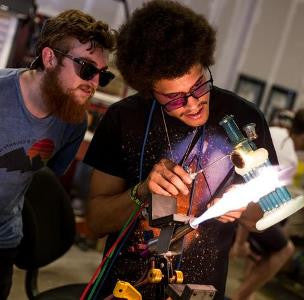 A few weeks ago, we had the opportunity to attend the 5th annual Armadillo Art Glass Initiative (AAGI) in Austin, Texas.  Thomas, Alex and I were all in attendance and had a great time meeting new customers, and visiting with artists we haven't seen in a while. This year's event had a great turnout of lampworkers, collectors and supporters, all donating to AAGI's chosen charity - Meals on Wheels Central Texas.  We had the opportunity to catch up with Craig Lewis, the organization's founder, for a in-depth look at this awesome event.

To learn more: Read the below Q&A with Craig, check out our 2016 blog post recapping last year's event and follow @armadilloartglassinitiative on Instagram!!
GA: Why did you decide to start the AAGI?
Craig: I decided to start AAGI based on what I experienced with Sean Mueller and The Colorado Project giving back to their local food bank. I saw great potential for something like that here in Texas. With the help of Nick at the Glassroots Arts Show giving me a push, I realized that with our large number of glassblowers, it would be awesome to see what the Texas glass scene could do to give back to our local community - while helping to bridge the gap between the community as a whole and glass pipe makers.
GA: How would you describe the AAGI to someone not familiar with our industry?
Craig: AAGI is a non-profit event in Austin, Texas consisting of music, food, and art. Over 70 glassblowers, both locally and nationally recognized, along with graffiti artists, participate in live demonstrations. The focus is to create one-of-a-kind works of art to be auctioned off with all the proceeds benefiting Meals on Wheels Central Texas (MOWCTX).
 
GA: Why do you think it's important for our industry to give back to the community? 
Craig: I feel giving back to the community is a vital to keeping it healthy and creative. If the glass blowing community can give back and have a direct impact on our local communities, I see it as a great bridge - to better understand, appreciate and respect each other. It's also a reminder to us as artists to create collaboratively for a greater purpose rather than competitively for ourselves as individuals.
 
GA: What made you decide to benefit Meals on Wheels Central Texas?  
Craig: Choosing a beneficiary is a bit difficult in that you want a group that not only has a positive impact on the community, but has also has great respect and integrity with financial clarity. We chose Meals On Wheels Central Texas as our beneficiary based on their actions and impact over time in our local area.  MOWCTX seeks to nourish and enrich the lives of the home-bound and others in need through programs that promote dignity and independent living. They distribute over 3,000 meals per day. Every $25 donated is equal to 10 meals, plus other vital services. MOWCTX has a holistic approach to case management and offers a variety of services and programs for their clients.  These programs are provided free of charge and are designed to enrich the lives of those they serve.
 
GA: What are your future plans for the Armadillo Art Glass Initiative?
Craig: In the future we would like to grow the event to include more artist demonstrations as well as more vending opportunities for artists of various mediums. We are also looking to bring back some live music to the stages for more of a festival feel to the event. Be sure to check out our website for developing details on the 2018 AAGI Main Event: ArmadilloArtGlassInitaitive.com
 
GA: How can people get involved?
Craig: If someone wants to participate, we have a few ways to get involved. Attendance at the Main Event is always a sure bet since the door donation also goes directly to MOWCTX. If you can attend, applying for a demonstration or volunteer time slot is also a great way to plug in. If you are looking to go that extra mile, sponsorship of AAGI is what makes the event happen. Our sponsors fund the AAGI event budget so that all of the art and money donated can go directly to MOWCTX. If you are not able to attend the main event, you can still get involved - by making a direct donation to MOWCTX via our secure web link, or by mailing a donated piece of art for the silent auction, where the proceeds benefit MOWCTX.