Inside Studio Alchemy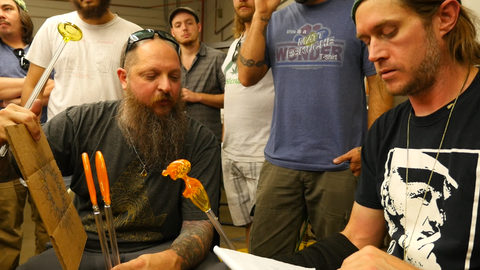 Hi Everyone -
Event season is in full swing, and we are excited to host another summer Open House at Studio Alchemy! This year's event on Thursday, July 6th will be the biggest yet. We will have a pop-up show featuring work created by Eusheen during the two weeks he will be teaching at Pilchuck. We will also have plenty of demos, new colors available and Shelbo on the mic.
Our space will stay busy after the Open House, as we continue to offer classes. When we opened Studio Alchemy in May of 2014, we had the idea of providing a creative space dedicated to bringing borosilicate artists and glass together for new creative adventures.
I have attended several glass classes in the past with hard stop times, whether a piece was done or not. I always felt students were missing some of the most important aspects of the learning process. What happens when a piece is 98% done, and then cracks? Studio Alchemy was the first classroom setting to allow teachers to set their own hours. This means, if class needs to go until 3am, then class can go until 3am.
In the past year, we've continued our commitment to artists-helping-artists.  Check out the highlights from the Phil Siegel and Banjo class here.  We have also hosted the Neo-Cad show, a Salt & Voorhees class, and a Punty & Dosh class. Be sure to keep your eyes open for some upcoming class announcements!
If you've never been to a Studio Alchemy class, know that they are worth it! We strive to make every class the best in the industry, modeling our classes after what I experienced at The Ultimate Class in 2013. For those of you who aren't familiar with the Ultimate Class, it really was the ultimate. Joe Peters, Elbo, Mike Shelbo, Coyle, WJC & Snic all made epic pieces in front of 20 students at Peter Muller's studio in Vermont. The experience I had at this class really raised the bar and helped set the foundation for the approach we have taken at Studio Alchemy.
We think hosting classes and events at our Studio provides great opportunities for artists to feel at home at Glass Alchemy. And we really mean the "at home" part.  So much so, that we give students the opportunity to hand pick color straight from our shelves. We also think the long hours require real nourishment, so our class participants enjoy home cooked meals & snacks. The food is great, and is courtesy of Susan and Henry, who love the opportunity to stay connected to the glass community, post-retirement.
In the end, it really is all about family. We are all part of a great community of artists. Whether you come to a class or to our Open House, we hope to welcome you to our home soon!
Peace - Thomas