And the Winner is...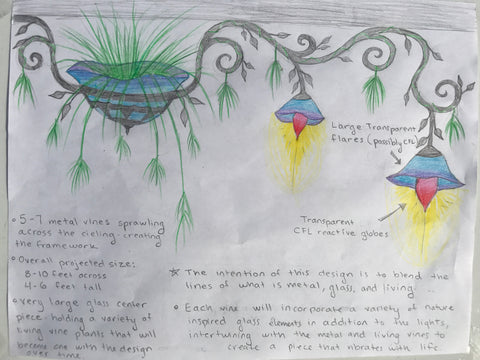 Hi Everyone -
This is a very special update. This summer, we announced the first ever, Glass Alchemy Artist Grant Program and I am excited to let you know that we have a winner!!!  This new program is a way for GA to support artists who want to really push the limits of borosilicate,  awarding one artist with up to $2,500 in color, to help their vision come to life!
Before the big reveal, I want to thank each and every artist who applied. Jodi and I were blown away by both the quantity and quality of the entries. Your creativity is a big part of what fuels the commitment of the entire GA crew and we appreciate you taking the time to share your ideas and inspiration with us.
All entries were reviewed by Jodi and myself based on their level of innovation, development opportunity and project viability.  Each candidate was reviewed anonymously and the top 20 candidates were reviewed twice. Once we narrowed it down to 10 applications, the Glass Alchemy Makers Alliance Board of Directors made the final selection. Once the final selection was made, we got to see the winner's name for the first time!!
We are excited to let you know that Jason Gordon of Gordon's Glassware is the winner of the 2017 Artist Grant Program!!
Together in collaboration with Christopher Rice Metal Works, Jason's winning entry is a large scale "living chandelier " that will have GA color, metal and living foliage in a hydroponic style growing system.
Suspended from the ceiling with a fully functional lowering system for cleaning and upkeep, the chandelier will consist of a multitude of glass flares ranging from small (12 inch across) to large (24 inch across ) replicating flowers. The metal work will make up the foliage, adding depth to the piece and will be the overall frame. The longer the foliage is up-kept the more amazing the piece becomes.
Jason will begin working on this project after the New Year.  We look forward to learning from Jason's experience and will be sure to keep you updated along the way!!
Peace - Thomas