From Test Lab to Small Batch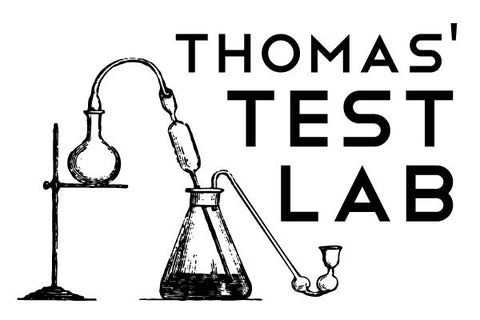 Hello everybody - 
Since the start of this year, you have been able to get your hands on some colors named "Thomas' Transparents".  I want to take a little time and explain the purpose for these test colors and the role they play in my color development process.  
Thomas' Transparents are a product of my Test Lab, the color research & development center here at Glass Alchemy. When I'm working on a new color, I test my theories and put them into application. I don't settle for the first thing that comes out of the pot.  Daily, I am making small adjustments to the recipe and batching process to get to what I consider to be the best and most workable glass formulas. 
When I feel like I've hit the most balanced formula, I consider the color ready for production testing.  Before being fully released, the formula needs to be produced with repeatable results through the Small Batch process.  During this process, I am in direct control of the batches from start to finish. 
So when you are buying a Thomas' Test Lab color, you could be buying something really rare that will never be made again, or you could be buying the precursor to a Small Batch release.  Some of what was sold as the Thomas' Transparent - Greens will look very similar to Crippy which is coming soon to Small Batch. 
In 2013, I started down the path of making the most air-free and vibrant transparent colors possible.  It has always been my goal to develop an entire palette boro workers never had before... a low air content, vibrant rainbow spectrum of transparent colors.  These colors include Rozay, Tangie, Lemon Drop, Haterade, Rain Drop, Blue Dream, Purple Rain- and don't forget the orginal CFL colors, Serum & Potion. 
Thomas' Test Lab is a way for me to explore the formula varieties for a given color and pick only the best for Small Batch production.
Peace,
Thomas