How it's Made - Part 2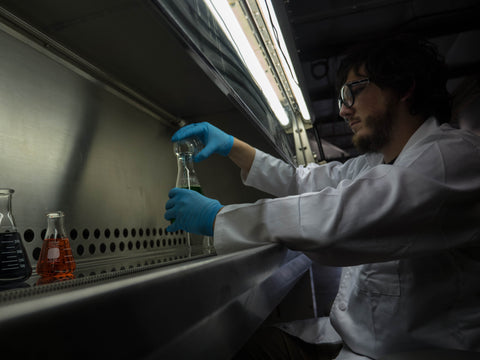 Hey everyone! Welcome back to The Formula.
As I mentioned, we are spending a few posts explaining and illustrating our glassmaking process here at GA. In last week's blog, I talked about how and why we choose our colors. Today, I'd like to pull back the curtain on our actual glassmaking process. I hope you enjoy learning a bit about how we spend the days at GA.
THE START
Once we finalize a color and we move it to regular production, I closely follow our formulas. These formulas take what we want as an artistic final product and break things down into the steps that ensure our science is right.
If you took high school chemistry, chances are you or one of your classmates broke a beaker or test tube at some point. You might not have known that those vessels are made of the same material we use to make our glass. We start our batches here with crushed glass that is up-cycled from the scientific industry. We think it is pretty cool that we are up-cycling a product and using 100% renewable energy to do it.  
We carefully measure out the crushed glass and add our own formula that includes metal oxides. It's the formula and TLC throughout the batching process that determines everything about the color and quality of our glass. Why spend $100 a pound and invest hours on a piece if the glass is going to turn around and crack?  It is all about the formula and we make sure our glass has the correct COE before it leaves our door. 
It is so important to the GA crew that we make the best glass we possibly can.  We know our customers trust our product and many depend on us to pay their bills, so we do our very best to make a consistent, reliable high quality product. 
Once we have our formula completely mixed, it's now ready to enter the furnace, the point of no return! This is one of the most exciting and stressful parts of the process for me, and it's one that I will take you through next week.
Peace - Thomas
Check out Part One here.
You can move on to Part Three here.