How it's Made - The GA Way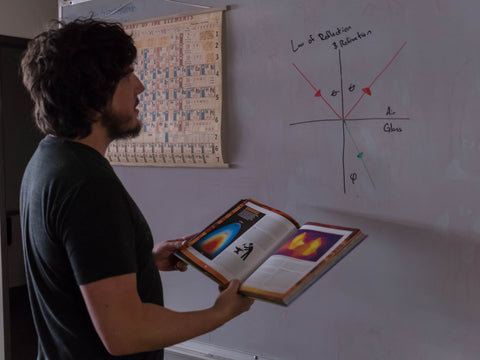 If you've read this blog in the past, you can probably guess that nothing gets me more stoked than making and melting glass. I have been doing it for many years, and every day I learn something new.  And the fact that the end result is something that you guys turn into works of art, makes the process and the hard work so worth it.
I'm often asked about the glass making process—how I choose or make colors, how long we "cook" our glass, how we turn a pot of melted glass into the rods our customers buy, what my background is, etc. So, I decided to walk you through the process and hopefully shed some light on how we do things at Glass Alchemy. I'll break down the process into three posts; I hope you like what follows, and if you have any questions about what you read and see here, please send us a note!
Color - The GA Way

If you ask me what makes GA stand out in our industry, I would say it's the overall quality of our glass and our trendsetting colors. Our colors are born from many different inspirations, including ideas from our customers. I nerd out on color every day, pouring through color books, revisiting my dad's notes from his decades of glass making, studying ideas around optics and refraction, eyeing natural objects for inspiration, and leaning on my interest in geology and chemistry to figure out what is possible and how we might make something new and brilliant come to life. It's a true marriage of art and science, and the science is really important.
As a scientific process, creating new colors often requires trial-and-error. There is never a guarantee that a color, no matter how carefully we plan, calculate and measure, will turn out as we expect. The time it takes to develop a new color depends on a number of factors. When I start working on a new concept color like Serum, I start with an idea and a vision of how the color could be used by our customers.
When I start working on something that is new to the boro palette, the development process is time consuming. I usually spend a few months in the R&D process. I take this time to learn as much as I can about a new colorant and how it influences the glass. Once I start to get a solid formula in the works, I send glass out to Mike Shelbo for his feedback on the workability and color characteristics. Once Mike has had a chance to use a few batches and we make the desired changes, I send glass to the GAMA Board of Directors for the final round of feedback on the formulation.
Once we land a color, we still have to make sure that the recipe is consistent and repeatable. If you have ever used our Test Lab glass, you've seen some of the colors that are in the stage of building repeatable results. Once we know we can get it right over and over again, then it is time to move the color into the Small Batch section of GlassAlchemy.com. 
You would be surprised to see how many batches we make of any given color, before it ever makes its way to the Test Lab. When we finally nail a color formula, it makes my day. Sometimes the development process moves as fast as a few months, and sometimes the cycle can take as long as a year, or more.  From start to finish, it's all with the goal of getting you, our customer, something truly exciting and reliable.  I could always make glass faster, but then it wouldn't be the Glass Alchemy quality you depend on.  I really pride myself on making glass that works.
In my next couple of posts, I will give you an inside look into the actual glassmaking process.
Peace - Thomas
Check out Part Two here.