Another Awesome Open House!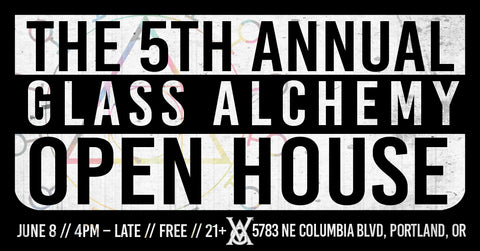 Hi Everyone -
I would like to send a big thanks to everyone who came out to our annual Open House last week. We had record attendance at our event and we hope all of you who attended had a great time!
If you weren't able to make the event, I want to update you on all the pastel colors we previewed at the Open House.  In my last blog post, I let you know that we are continuing to expand our Pastel Palette, with the Small Batch release of Pastel Serum.  At our Open House, we previewed FIVE more pastel colors!!!
These new colors will be rolled out on GlassAlchemy.com throughout this summer! Here is a quick overview, so you know what is coming to Test Lab and Small Batch over the next few months.
Mystique
Darker than Ether, Mystique offers the same great working properties with a richer blue base.
Pastel Potion
Just like it sounds, this is a pastel version of Potion! The feedback on this Test Lab color has been fantastic. We can't wait to make more and get this one to you as soon as possible!!
Pastel Yellow
With the release of Citron and the development of this Pastel version, our goal is to give you two consistent options to replace our old, inconsistent Lemon Drop. Citron will always be transparent and the pastel version will always be pastel. This color will be available as Pastel Yellow in the Test Lab as we work on finalizing the Pastel Citron formula.
Glue Stick
Glue Stick is a semi-transparent white. It is the base color for both Ether and Mystique and will have a similar working experience.  This color will be coming to Test Lab soon!
Wood Glue
Another Test Lab color on the horizon is Wood Glue. This color is on the Glue Stick base and well, it looks like wood glue. It yields a color similar to Silver Strike-5, but without the fumey silver finish.
If you scooped some of these colors at the Open House, don't forget to #GlassAlchemy on your posts, so we can see how you used these colors.  If you have any feedback, please send it our way.
Peace - Thomas